Branding and website design for a space startup
Updated on May 25, 2023

|

3 min read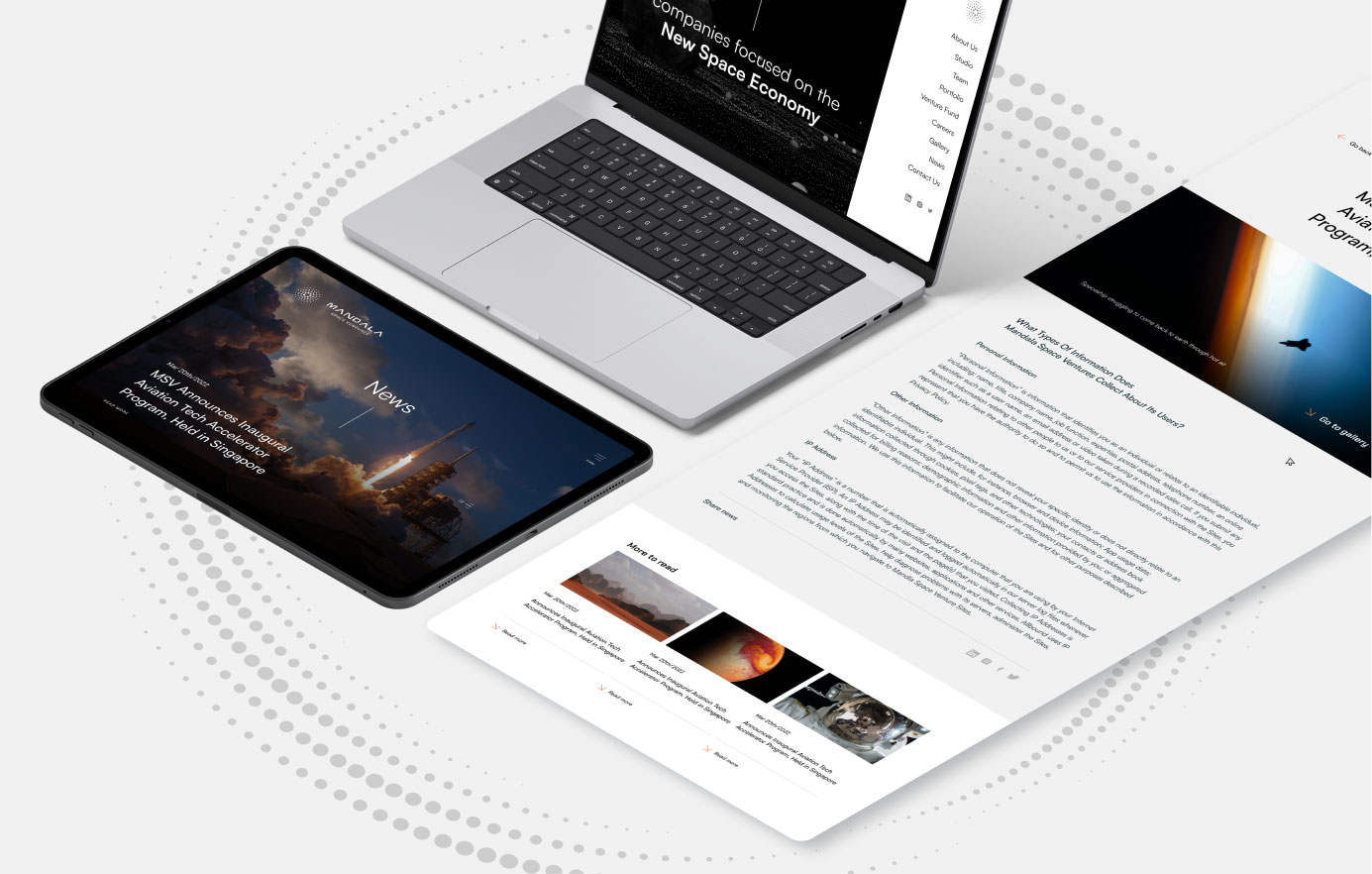 Designing branding and website for a startup company in the space industry.

Client Overview
As a result of a referral from our former client, we were contacted by a company that specializes in space start-ups focusing on solving problems on Earth using space technology.

The Application
There was a need for a visual identity as well as a redesign of the whole website. It had to be designed utilizing pioneer technologies, reflect the company's mission and message, and maintain a high aesthetic standard.
Benchmarking
New visual indetity (logo, typography, visual guides)
Brand-new website experience
WordPress with Advanced Custom Fields
New visual identity
The concept was changed several times during the decision-making process because we wanted everything to look flawless and fulfill the client's expectations. After reaching an agreement, it was time for the website. To give the client complete control over the process, we decided to have frequent design meetings, which allowed us to adapt to the feedback quickly.

Testing concept
During the process of choosing the most suitable concept, we tested many ideas and worked efficiently as a team of only three specialists.

The solution
We started intensively from the very beginning – as soon as we managed to design a logo, we moved on to the website.
We received positive feedback from the client during the whole process, which helped us work and adapt necessary changes according to the client's requirements. By working effectively in a team of just three, we met the challenge. Moreover, thanks to the team's small size, we managed to conceive the website and logo below the budget.

Technology
We have used HTML, CSS, and vanilla JavaScript to develop the front-end part. Sass and Rollup were also used to make the development process fast and easy. The AOS library provides animations on site.
We've integrated the site with Sendgrid to communicate with the newsletter subscribers easily. In addition, the site was deployed on Kinsta to ensure easy maintenance, as well as use some of the features not available in other hosting providers.

The ease of use
The front-end is integrated with the WordPress platform so that the client can easily modify the page's contents. We've made use of blocks in the Gutenberg editor, supercharged by the Advanced Custom Fields Pro – this allows the client to structure the website as they want without having to create different designs each time they need to introduce some new layouts. Templates for the Gutenberg blocks were written using HTML markup and PHP language.