Cleaning service app for ride sharing vehicle
Updated on May 25, 2023

|

3 min read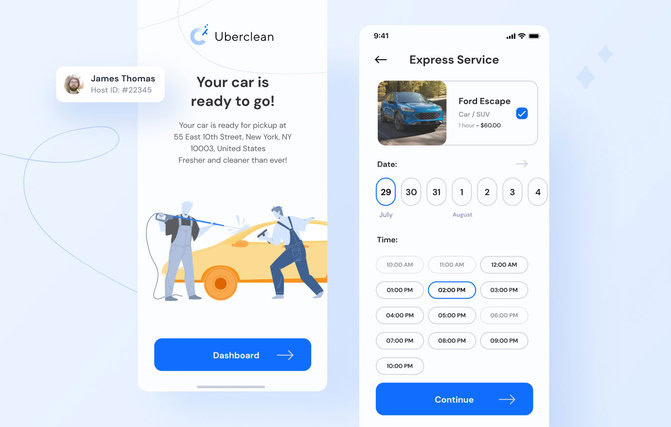 Cleaning service app for ride sharing vehicles.
A Silicon Valley startup approached us with the innovative idea of creating a unique mobile and web application for Uber/Lyft drivers who wish to book a cleaning service for their vehicles.
Project Overview
User flow
The service can be requested just once, or the owner of the vehicle can set up a recurring event to have his car cleaned on a regular basis. Of course, in order to ensure the best quality, only verified and experienced cleaners are allowed to perform the service.
User experience
We made sure the app is safe to use, as all its users (both the car owners and the cleaners) need to undergo a thorough verification process and background check that confirms their identity.
The app follows the latest design trends. It has an excellent user experience and is guaranted by its intuitive and welcoming UI. We also included a lot of various integrations (e.g., geolocation, Google Calendar). The app is compatible with desktop computers, iOS, and Android mobile devices.
The Application
Driver's app
Inside the driver's app, the car owner can add his vehicle and request a cleaning service. The service can be ordered once only or can be scheduled as a recurring event. Drivers pay inside the app for booked appointments (cleaning services) as the app is integrated with Stripe.
This intelligent and creative application makes the life of Uber/Lyft drivers considerably easier. Instead of taking time to clean their cars they can place a professional cleaning service order.
The app exists in two versions: for the drivers and the cleaner crew.
Cleaner's app
The cleaner can select the cleaning task that seems suitable from an accessible list within a specific radius of his location in his app. Jobs that are about to start soon have an extra financial incentive.
In order to complete a job, a cleaner has to arrive at a predetermined location where the car is parked and, after performing the job, upload the pictures of the cleaned-up car.
This mechanism ensures that the cleaner will show up for the cleaning service.
The cleaner is paid for his services after the job is done. Once a week, automated payouts are made to his personal bank account.
Admin
Additionally, there is an admin panel where our client can check how many cleaners and car owners have downloaded the app and signed up. Users can also manage other users: confirm their identities, handle payments, and issue payouts via the admin panel.
Technology and integrations
We have connected the application with Stripe. Car owners may pay for scheduled cleaning services using Stripe, and cleaners can get paid quickly and regularly. The app has also been integrated with a geolocation feature which allows us to track cleaner's localization. This function helps prevent fraud and ensures that cleaners show up at the job's location.
The leading technology used in this project was React Native and many third-party libraries such as google map or image picker.
JavaScript/TypeScript
React Native
Firebase
Google Cloud Platform