Cubus & Urban E-Commerce Platforms
Updated on May 25, 2023

|

4 min read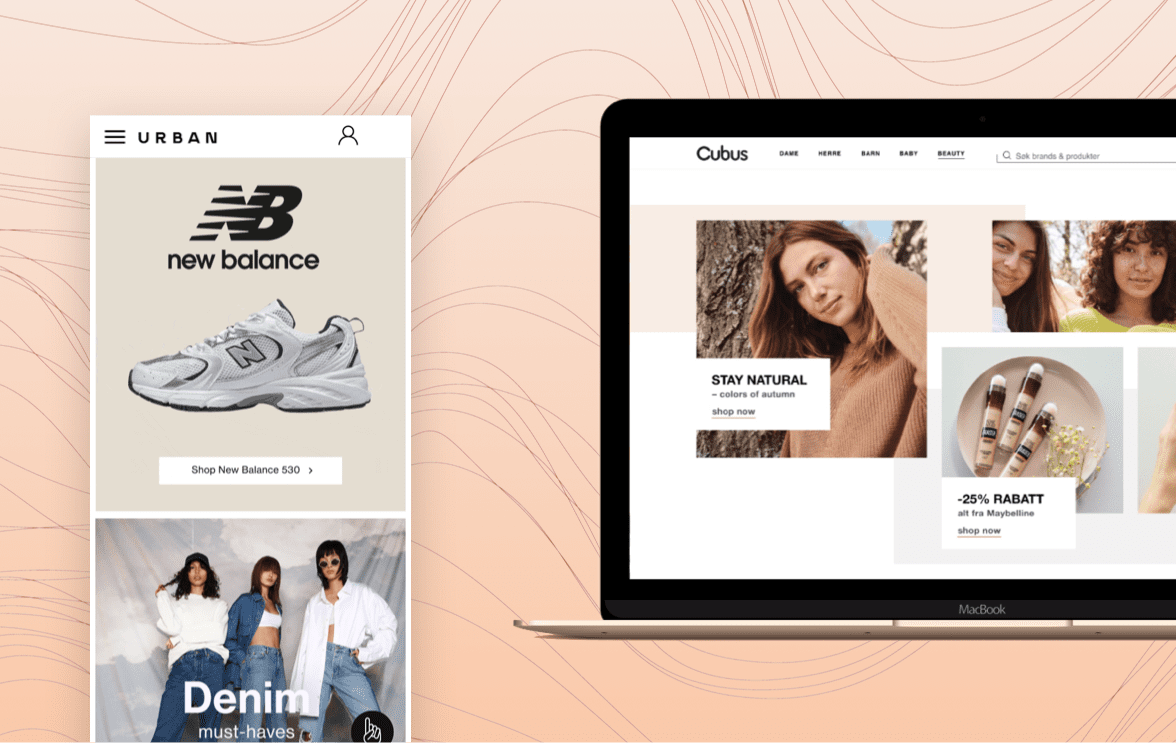 Developing software and UX/UI design that hits world market.
Product Overview
Dynamically growing e-commerce platform
Cubus is an emerging European fashion brand operating on the Scandinavian market, selling not only clothing, but also cosmetics and accessories, both in brick and mortar stores and using an e-commerce platform. Urban is a dynamic fashion brand from Norway. As DevsData LLC we managed to develop a platform fitting customers and partners – the effect of which is now the fact that now Urban was acquired by a bigger Scandinavian brand – Junkyard.no
Product Objectives
Software development and modern UX/UI design
Project deliverables were mainly:
Developing a more modern and functional e-commerce platform
Creating a UX/UI Design System (including Layout Rules, Design Patterns, Reusable Components)
Integrating new solutions with enterprise ecommerce products and software APIs
Providing a convenient financial transactions system
Design Process
Modernising & internationalisation
Our work on the project began with gathering the detailed business and technical requirements, and checking and adjusting the information architecture of the system. We moved some tools to other modules, grouped them more logically, and simplified their inter-connections. The purpose of the modifications was to shorten and simplify the user's path and create unique, outstanding design solutions The changes we introduced were based on knowledge and industry experience of the client's team, combined with our technical expertise. They were a solution responding to the needs and frequent problems observed while working with customers.
Another objective was to make the platform internationally accessible, since before our work it was available only for Scandinavian languages speakers.
Design System
A flexible, durable and reusable solution
To date, the design of the Cubus' website did not stand out of the competition on the Scandinavian market. The interface was not intuitive and captivating and costumer's path possesed lack of simplicity. Our goal was to modernize the layout and consumer's path. Thus we managed to create new beauty page concept to engage users to explore the website, and spent more funds on their purchases. The design concept was inspired by beauty-editorials artworks to make them more attractive.
We enhanced the overview of the page with new color palette matched with presented photoshoot style. The attractiveness was strengthen with features like shortcuts, photo galleries and carousels, and photos combined with CTA buttons.
Design changes were closely monitored and adjusted by the marketing team, with AB testing, tools like HotJar, Google Analytics and Full Story, we were able to perform series of tests and tweaks to boost conversion and the average basket size.
Result
Cutting edge software development, business consulting and improved UX/UI design
As a result, we managed to design and develop a high-level, modern and user-friendly software, combining well designed front-end but and
complex back-end. We implemented an advanced financial transaction system. Our team has taken care to fully understand business and provide consulting services for clients.
Moreover, developers received over 100 screen projects with interactions, and clickable prototypes, a complex Design System enabling easy future expansion of the current product and Design Principles describing the rules of project implementation.