Enterprise resource management system
Updated on May 25, 2023

|

6 min read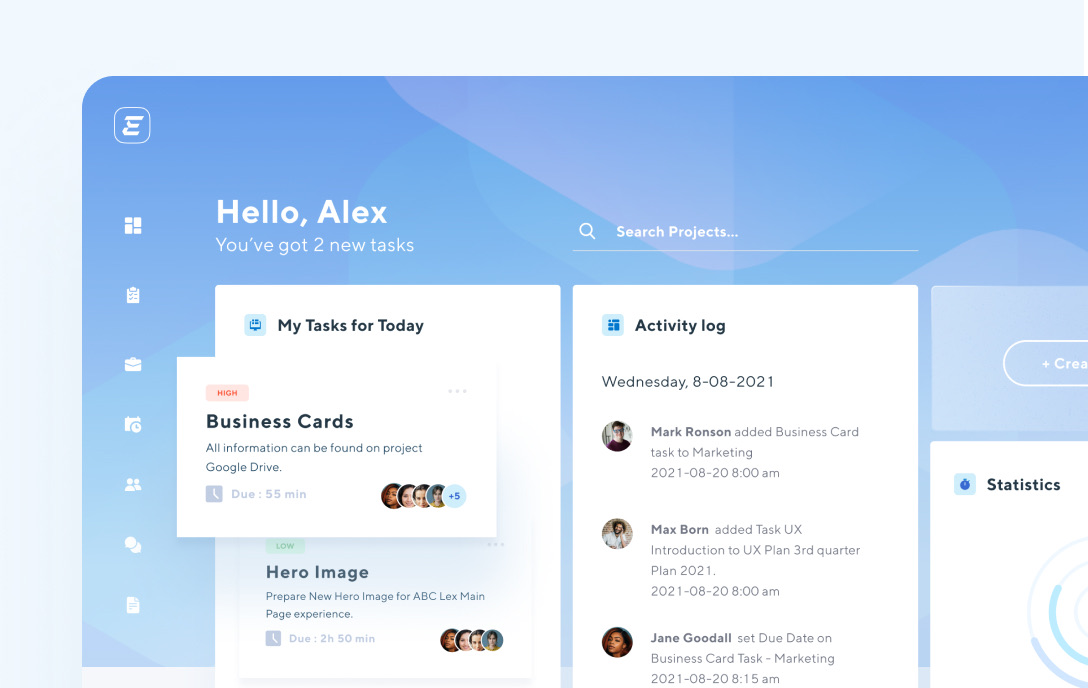 Discover the extensible management software with strong security and high integration levels with other corporate systems.

Project Overview
A financial services company asked us to design and develop a simple, intuitive application for effectively organizing resources and managing tasks and projects. Designed and tailored specifically for the client's needs, ERP naturally became a comprehensive, more powerful replacement for Jira and custom Excel template files.
In addition, extensive integration with other corporate systems provided the client with an innovative and all-embracing platform.

Dedicated system for the company's core operations
Enterprise software is a product that must meet the unique needs of a given company and support all types of data operations. As a result, the company can gradually increase its productivity and efficiency, often reduce operating costs and increase profits.
The team overseeing the project is always extremely committed and strives to understand the business
perspective and the problem thoroughly.
Then we align priorities to highlight the most important to the project and set measurable goals, KPIs, and development milestones. As a result, we can offer tailor-made, excellent solutions in terms of performance and usability.

Thorough project planning side by side with the client
As a part of the UX process, we have created an apparent and straightforward information map when
building the software.Therefore, it is a practical step to organize, prioritize and label the app content.

Unique client's need
Our client wanted to have a customized Jira-like web
application that perfectly fit his specific project management needs.
The solutions currently available on the market did not meet his expectations or security requirements, which were often over complicated and did not possess core features so much desired by our client.

Sensitive nature of the information and strict company's procedures
The company's had an unwavering reputation in the financial services sector. Due to the sensitive nature of the data processed, our design and code had to be top-quality to stand up to the scrutiny from the client's department and external auditors.
In addition, the company had very precisely specified its particular needs and expectations, which we had to meet.
The system we were asked to develop is critical for the company's operations concerning collecting and storing important information, none of which can get lost or leaked.
Thus, we had to cope with sensitive data and build a product that obliges with rigorous security requirements.

Custom-made system tailored to client's unique day-to-day workflow
A brief overview of the core functionalities:
View for managers and employees:

The manager can efficiently monitor the work progress through filtered and sorted lists with finished/delayed project tasks. He can also easily change the task priority or assign it to a different employee if any changes are required.
Employees have quick access to tasks assigned to them via filtered lists or custom search queries.

Convenient tasks managing system:

Managing tasks via an easy-to-use view allows each manager to add task descriptions, attach files, assign employees, and set task priorities or deadlines.
All task changes are reported to the activity log, so there is always easy access to every task history.
Employees can change the status of tasks, thanks to which the progress of work is constantly reported.
Each task has a chat-like function that enables the users to add comments and questions, which provides a better workflow between managers and other employees.

Features included in the ERP application:

Sending automated and on-demand email notifications about work progress/status.
All of the data stored in the application is profoundly encrypted.
Generating reports in xls format.
There is an extensive permission system applied to facilities, multiple user groups, and roles.
We implemented an extensive system of notifications to remind assignees and managers about upcoming deadlines or tasks/projects that are already overdue.
OUR APPROACH
Business understanding first
We chose to follow a customer-centric approach to deliver the best possible outcome. Before the start of the project, we had several intense discussion sessions to precisely determine their business needs and expectations.
We prepared multiple application wireframes, and over several weeks we defined the system architecture, user experience, user interface, and visual language.
At each stage of the project, we constantly collected customer feedback and measured the results against business KPIs and objectives set upfront.

THE TECHNOLOGY
Being up-to-date with the latest tech trends is crucial for project success
Our developers have used, among others, the following technologies:

Vue.js and SASS

Worldwide used javascript framework which allows Us to build beautiful, maintainable and fast frontend applications.

Node.js & Express.js

Web server with great performance and thousands of middlewares which allows creating fast and secure API.

MySQL

Relational database management system which gives high performance, scalability and security via SSL

PM2 & Docker

Tools that allow to build, deploy, maintain and run the application without downtime.
THE OUTCOME
Custom-made, secure and powerful business tool
An entirely bespoke ERP & PM system that includes the features and functionalities which perfectly fit the client's needs. Our solution provides enhanced security and processing capabilities compared to commonly used Jira. It has also entirely replaced Jira in 2 departments and is now a core tool used for day-to-day operations.